2.1l pinto for sale
---
lewis

-

6/11/11 at 09:34 AM

hi all i have started winter mods on my MK Indy and am swapping my engine to a zetec so my old setup is for sale.

2.1l pinto with ported head and kent fr32 fast road cam,modified & shortened sump,flywheel and clutch inc too (cluch new 3k ago) this engine was in the car when i bought it so history/miles unknown, a fast engine by all accounts

i took a video before i started removing the engine so can be heard running

open to offers before going on ebay
---
theduck

-

6/11/11 at 09:49 AM

Any idea what kind of price? Am viewing something in a bit this would go in nicely...
---
lewis

-

6/11/11 at 09:59 AM

Open to sensible offers mate as really not sure what they sell for so was going to put it on eBay and see what happens but would rather sell through here as less hassle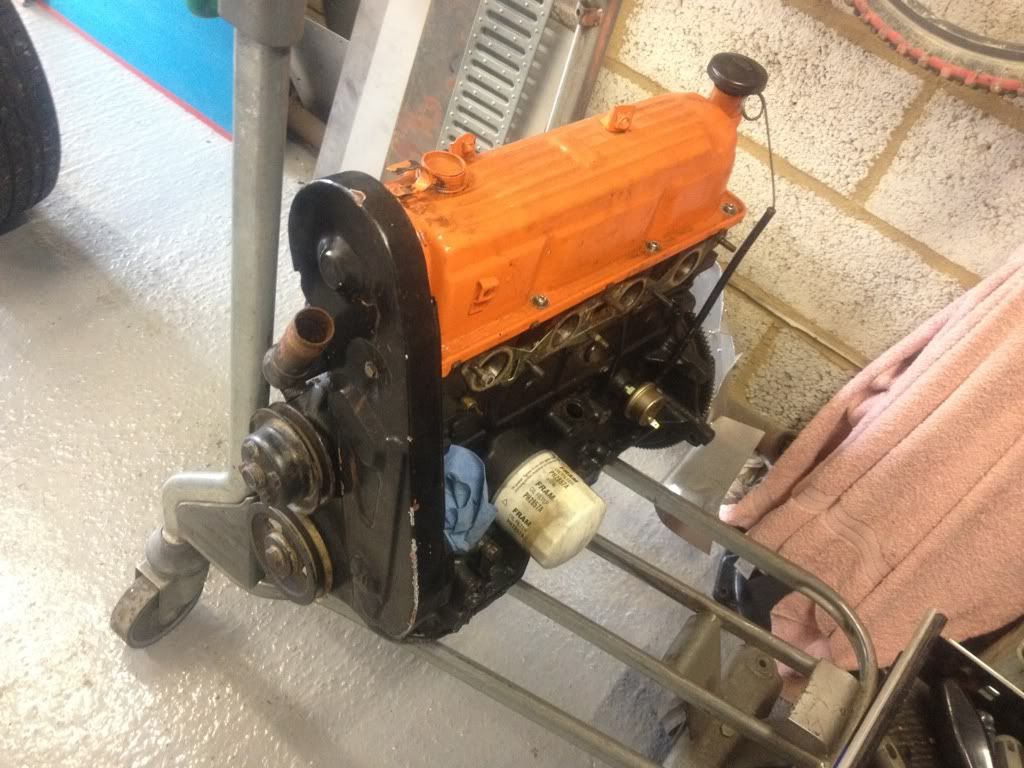 ---
JAMSTER

-

6/11/11 at 02:51 PM

so do you know it is defo a 2.1. is it a 205 block is the flywheel lightened only

asking this as i bought a 2.1 from a westie owner a month ago and it's only 2.0 would be interested if it is a 2.1 please pm me some sort of price thanks
---
lewis

-

6/11/11 at 04:12 PM

The car/engine was bought from a member off here it was sold to me as a 2.1l pinto with fr32 fast road cam & ported head/shortened sump so cannot confirm without stripping the engine apart,I will try and contact the guy I bough the car from to confirm these details.
I have removed the cam cover and on the back of the cam it is stamped with 'fr32'
---
JAMSTER

-

9/11/11 at 08:28 AM

so how much
---
lewis

-

9/11/11 at 08:39 AM

Looking for £225 for the engine,flywheel & clutch
---
theduck

-

9/11/11 at 09:27 AM

Car I am looking at needs a bit more finishing than expected so will have to pass on this.
---
JAMSTER

-

9/11/11 at 01:19 PM

u2u engine
---
greggors84

-

11/11/11 at 04:35 PM

I built the car that Lewis has now. The engine was originally built by a friend of mine and the spec he gave me is pretty much the one Lewis has posted.

The block isnt a 205 spec one but unless your upgrading it alot or going to forced induction there is no need.

I think the flywheel is standard.

The engine made 145bhp at the flywheel when I had it tested on the rolling road, that was on twin webber 45s.

Will see if I can get in touch with my mate who built the engine to find out a few more of the specs, but I ran it for 4 years and never missed a beat for me, pulled like a train in a car this light. A mate at work has a bike engined powered MK and he was impressed with the low down torque and driveability.

[Edited on 11/11/2011 by greggors84]
---
lewis

-

11/11/11 at 04:40 PM

Thankyou for the extra info Chris,hope you are well.
---
lewis

-

12/11/11 at 10:01 AM

Engine now sold to jamster,nice to meet you both & good luck with the escort.

[Edited on 12/11/11 by lewis]
---